A MULTI DIMENTIONAL EXPERIENCE
BY JOAN COSTES AND ADRIEN DE MAUBLANC
"DRAWINGS & PAINTINGS"
One of the various facet of masomenos work is their drawing and painting. Their recognisable bold black outline and vivid solid colors has been part of their vocabulary since Masomenos was borned back in 2005. Joan has always been holding a pen, most likely a posca or a sharpie to doodle, draw b.boys, invent some lettering. Though its when she met Adrien and they formed up as Masomenos that her style got another twist as they started to vectorise the drawing for tshirt and vinyl cover printing purposes. The curvy and slick outline, and the block colorisation became their touch. Most of their first artwork and prints came from this process of vectorising original drawings.This gave birth to a first serie of art print, limited to 30 copies.


When the duo moved into their Ivry workshop back in 2013, Joan naturally felt like experimenting bigger format, material and textures and started to paint, as a reverse process, trying to reach the slickness of the illustrator renders. It's mostly into the graphiti material that she found the tools and paint that suited her goal, and produced her first original paintings, both in black and white and color.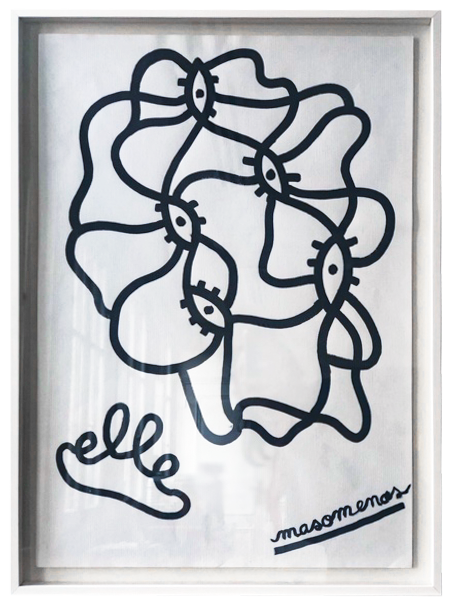 She has been following that thread since then.And last year took another step as she stared working with a reproduction technique, allowing her to duplicate original paintings with a stunning render. Loving to play with this duplication, confusing the hierarchy between various range of art pieces, she started to colorise the reproductions making then all pieces unique too.Meanwhile she also allowed the outlines and the color to moove more freely, giving borth to a new serie called circuits.
All that time Adrien has been on his side working with lights, and 3D to give another kind of dimention to all Joan's mostly 2D art.The constant dialogue between both the narrativ/illustrativ/2d part and the architectural, spacialised, 3D approach of Adrien led to interactiv audiovisual installation such as Tofidi, or The Totem & Tabou Hut.
Fully immersed into the light approach, Joan also started to integrate that idea of light to the painting using reflectiv, glittering, neon, glow in the darl or iridecent paint.And also got inspired by the work on colorfull shadows.
That new technic of reproduction gave her the freedom to experiment different techniques upon one single piece.
If you're interested in discovering the pieces available for sale, please write
here